There's nothing sweeter than settling in for a binge-watch, and if you're anything like me, your poison of choice will probably be a fantastic Korean movie.
Now, I've rounded up 20 amazing Korean movies that I feel everyone needs to watch, and there's everything from romance to horror to thrillers.
Trust me when I say they'll either have you on the edge of your seat or so swoony you might develop a headache (isn't this the best type of headache?)
Either way, you're going to be pretty busy once you get into this list, so get ready to, idk, start the most epic binge-watch session.
But before we get into everything, here are my own top picks:
Favorite romantic K-movie on Netflix: 20th Century Girl
Favorite thriller K-movie on Netflix: Ballerina
Favorite action K-movie on Netflix: Kill Bok Soon
Favorite fantasy K-movie on Netflix: Along With The Gods
Ballerina, Kill Bok Soon, & 18 More Amazing Korean movies You can watch on Netflix:
1. Love And Leashes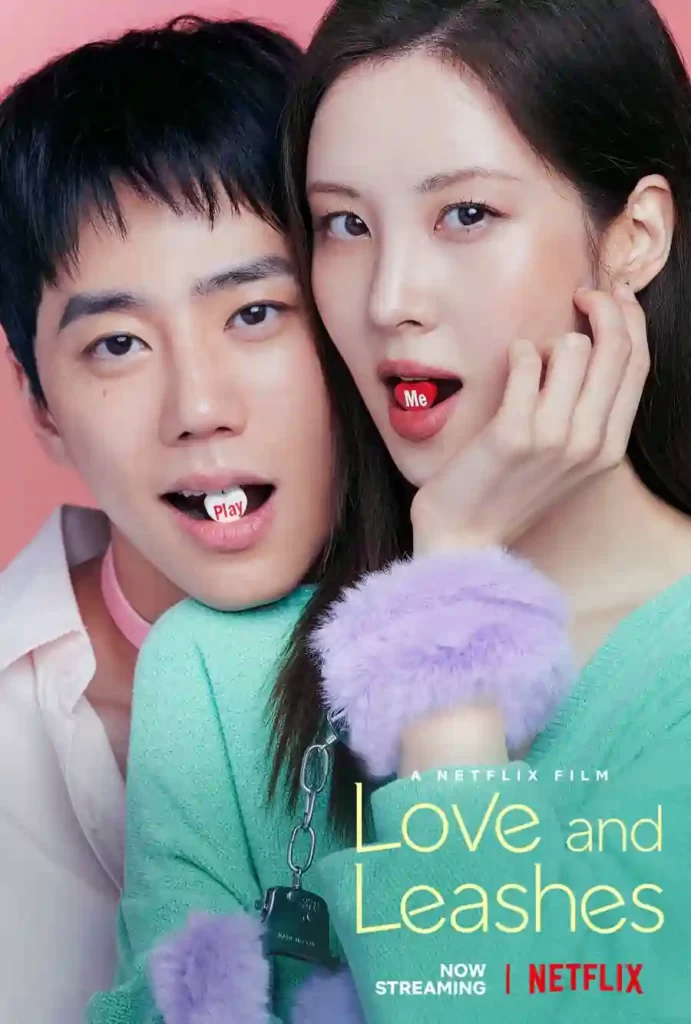 In the bustling workplace, Jung Ji Hoo shines as a capable and beloved employee. But everything takes an unexpected turn when a mix-up occurs.
Enter Jung Ji Woo, who stumbles upon Ji Hoo's package, which contains a sizable dog-collar and leash.
Brace yourself for a whimsical journey as these two individuals, with contrasting personalities and preferences, embark on an intriguing and playful exploration of a BDSM romance.
And, get ready to witness the delightful and provocative escapades of this unlikely pair as they navigate the complexities of their newfound relationship.
2. Ballerina 
A revenge movie through and through, Ballerina stars Jeon Jong-seo as Ok-ju, a former bodyguard who is grieving the loss of her best friend, Minhee, whom she failed to protect.
Minhee was a promising ballerina who committed suicide after being blackmailed and exploited by a drug dealer named Chef Choi.
Ok-ju decides to fulfill Minhee's last wish and seek revenge on Chef Choi and his gang.
So she uses her combat skills and weapons to fight her way through the criminal underworld, while also befriending a high school student who wants to escape from the traffickers.
3. Yaksha: Ruthless Operations 
Yaksha: Ruthless Operations is a Korean movie that you can watch on Netflix, and it revolves around a secret mission in a city where spies from different Asian countries are competing.
The main lead is Kang-in, or Yaksha, a cold-blooded leader of a South Korean black ops team whose goal is to catch Moon Byung-uk, the boss of a North Korean organization that handles the money of the Kim family.
To do this, he has to face his rivals, such as Ozawa, a Japanese spy, and Liang, a Chinese spy, and he must deal with Ji-hoon, a prosecutor who is sent to monitor his team's actions.
4. Time To Hunt
Set in a future where South Korea is in ruins due to a financial collapse and social unrest, this dystopian action thriller follows four friends decide to pull off a risky robbery to escape their miserable city.
They target a gambling house that holds a fortune in cash and gold, but their plan goes awry when they attract the attention of a cold-blooded killer who works for the gambling house.
The killer chases them relentlessly, turning their escape into a deadly game of cat and mouse, and trust me when I say this Korean movie had me hooked.
5. Tune In For Love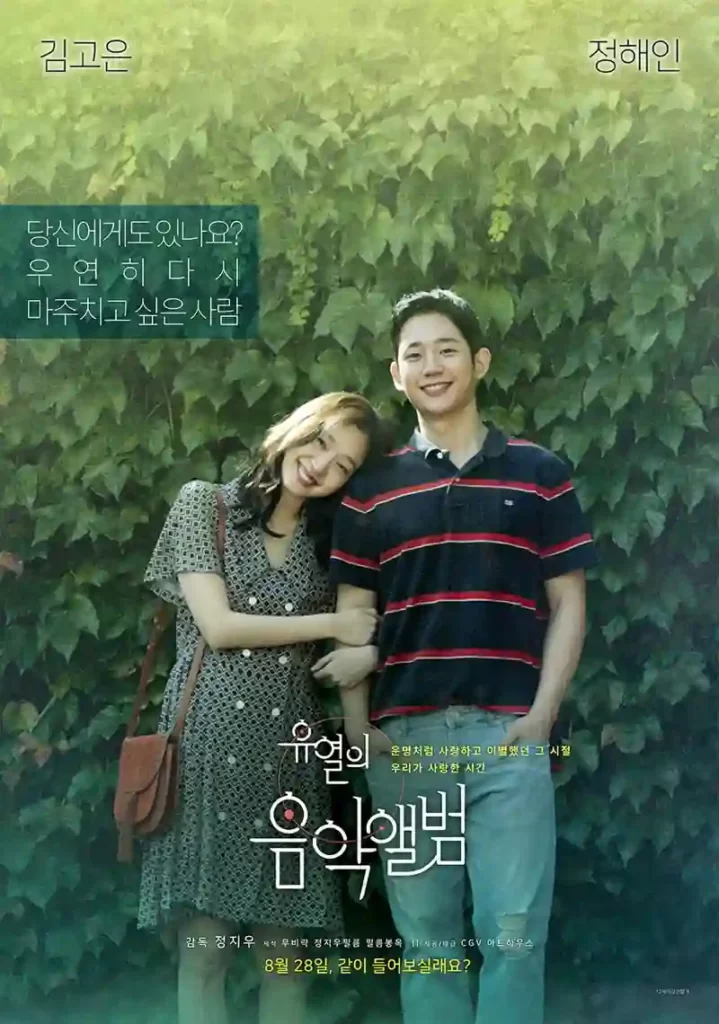 In 1994, as Yoo Yeol takes the mic on the popular radio show 'Music Album,' fate intervenes when Mi Soo, a college girl working at a bakery, encounters Hyun Woo.
Like the melodies flowing from the radio, their connection slowly harmonizes. Through a series of serendipitous events, the show intertwines their lives, but the bitter truth eventually drives them apart.
Fast forward to 1997, amidst the IMF crisis, where they reunite, sharing stories on the airwaves. Love ignites once again, but the timing remains elusive.
This romantic Korean melodrama movie available on Netflix follows Hyun Woo and Mi Soo's relationship in the most beautiful and heartwarming way.
6. 20th Century Girl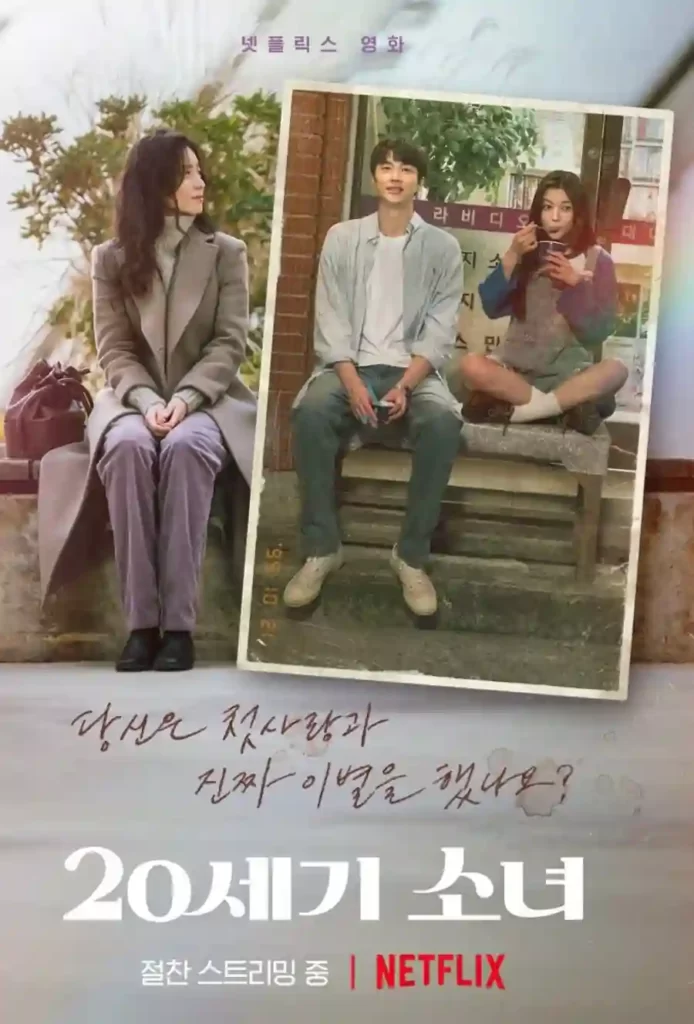 Bo Ra is a high school student with a kind heart, a black belt in taekwondo, and a passion for broadcasting. When her best friend, Yeon Du, develops a crush on the popular Hyun Jin and leaves for the U.S. to undergo heart surgery, Bo Ra takes it upon herself to keep tabs on him.
As she gets to know him better, she finds herself falling for him. By the end of this movie, I was in tears, so without spoiling it for you, this drama is amazingly, beautifully, and delightfully nostalgic in all the ways that matter.
7. Sweet And Sour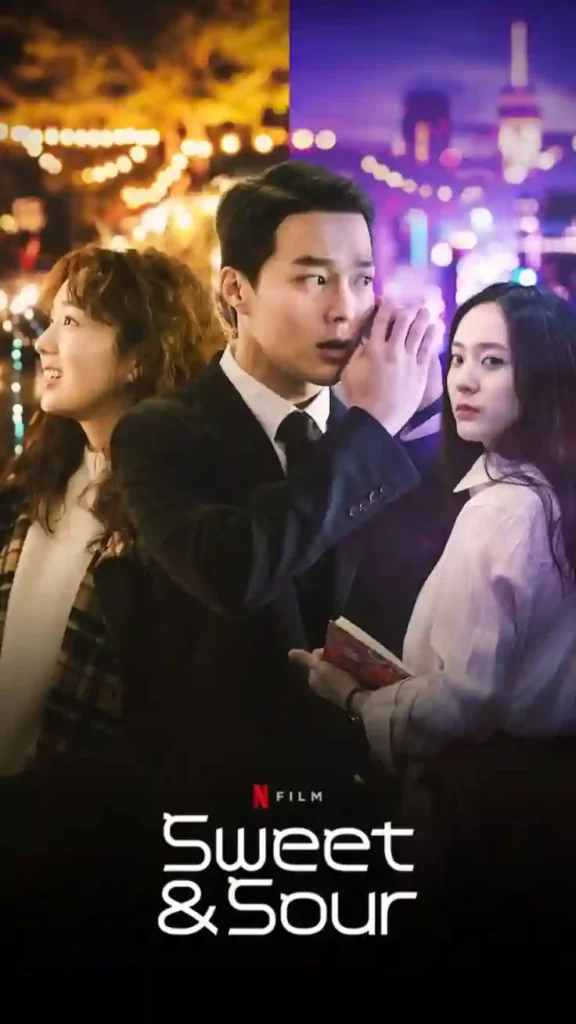 Jang Hyuk is a man who wants it all: love and career success. He's in a long-distance relationship with his girlfriend, Da Eun, but when he meets Bo Young in a new city, his heart is torn.
As Jang Hyuk struggles with his feelings for both women, the trio navigates the ups and downs of love and life.
This romantic comedy offers a refreshing take on the complexities of relationships and the emotions that come with them.
8. Wish You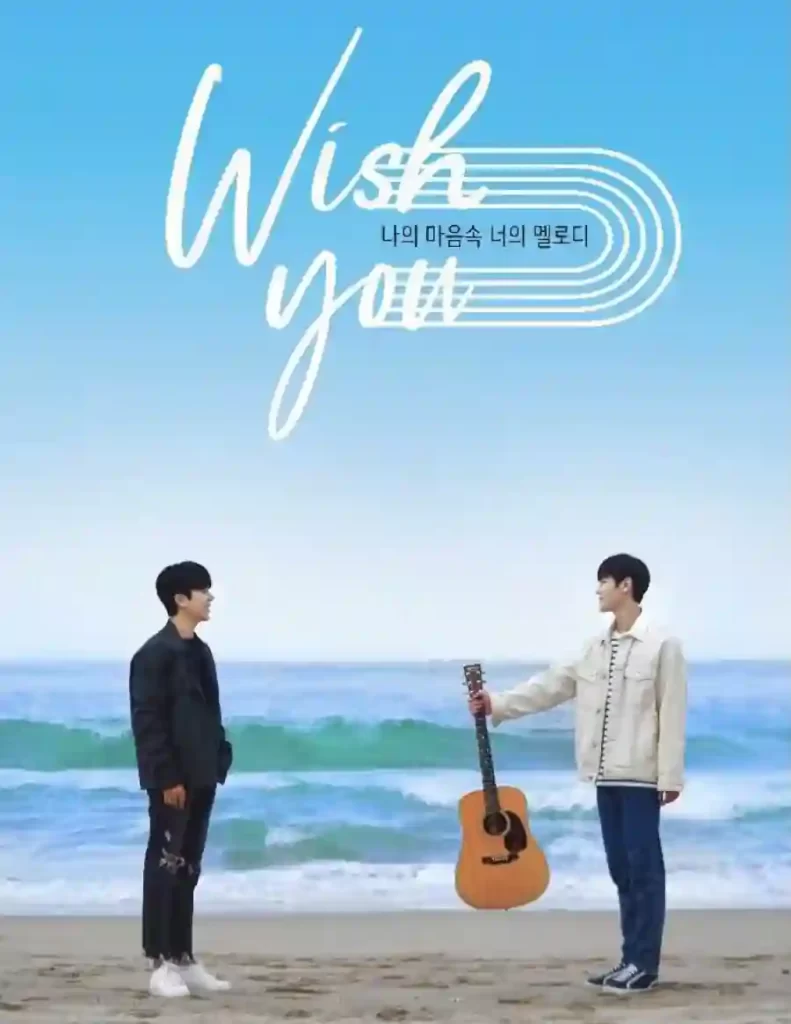 Kang In Soo is a passionate singer who spends his days performing on the streets and dreaming of a successful music career.
But, his talent doesn't go unnoticed as Yoon Sang Yi, a keyboardist from a renowned record company, discovers his videos and offers him a spot in their rookie discovery project.
In Soo jumps at the chance and moves in with Sang Yi, but as they spend more time together, they realize their feelings are more than just professional.
This is a beautiful selection if you're in the mood for a BL Korean movie to watch on Netflix.
9. Kill Bok Soon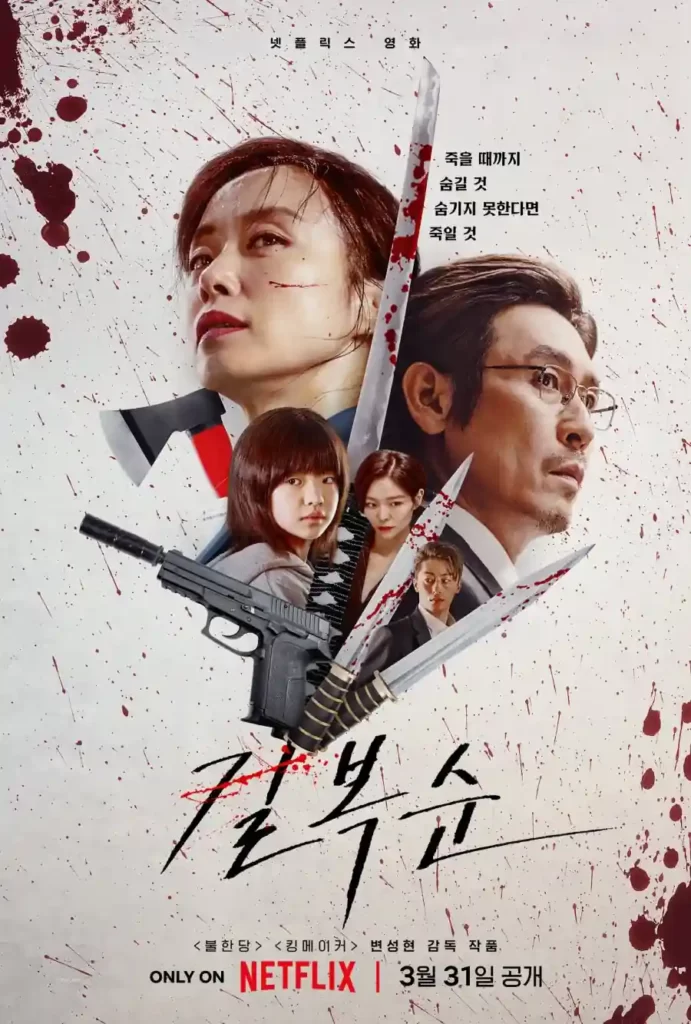 Gil Bok Soon is a single mother with a secret profession: contract killer. She works for M.K. Ent, run by Cha Min Kyu, who trained her to be a lethal assassin. Despite their mutual respect, Bok Soon knows he's a dangerous person who could ruin her life.
Meanwhile, Min Kyu's stoic sister, Cha Min Hee, works as an executive at the company, and Han Hee Sung is another skilled killer who goes unnoticed.
When Bok Soon decides to forgo her contract renewal, a life-or-death situation arises, and getting home to her teen daughter will prove incredibly difficult.
10. Along With The Gods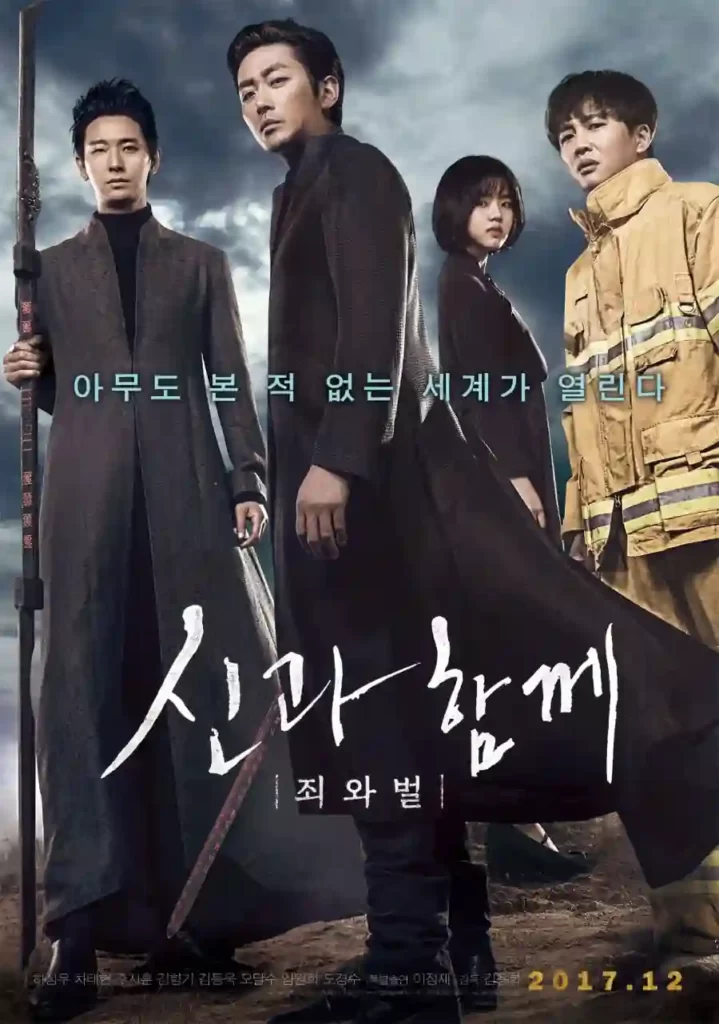 Kim Ja Hong is a hero who sacrificed himself and entered the afterlife with guidance from his three guardians: Kang Rim, Hae Won Maek, and Deok Choon.
However, their journey through hell becomes complicated when a vengeful spirit begins causing chaos in the real world.
Ja Hong and his guardians must navigate through the seven trials of the afterlife in 49 days to clear his name and earn a chance to meet his deceased mother again.
Along the way, they delve into Ja Hong's past, face challenges, and find meaning and purpose in their quest.
11. Steel Rain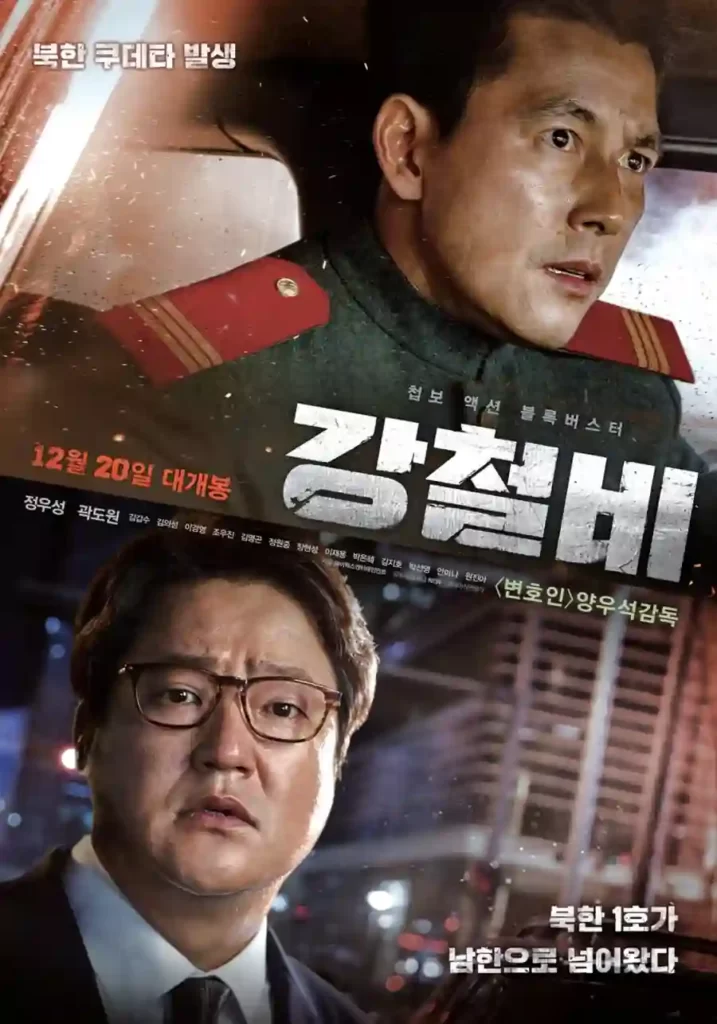 In the not-so-distant future, a military coup unfolds in North Korea, prompting the country's leader and Eom Chul Woo to seek refuge in South Korea.
As both nations teeter on the brink of crisis, Chul Woo and South Korean government official Kwak Chul Woo embark on a covert mission to avert a devastating Korean war.
With stakes higher than ever, they work together behind the scenes, navigating the shadows to preserve peace and prevent a catastrophic conflict.
12. The 8th Night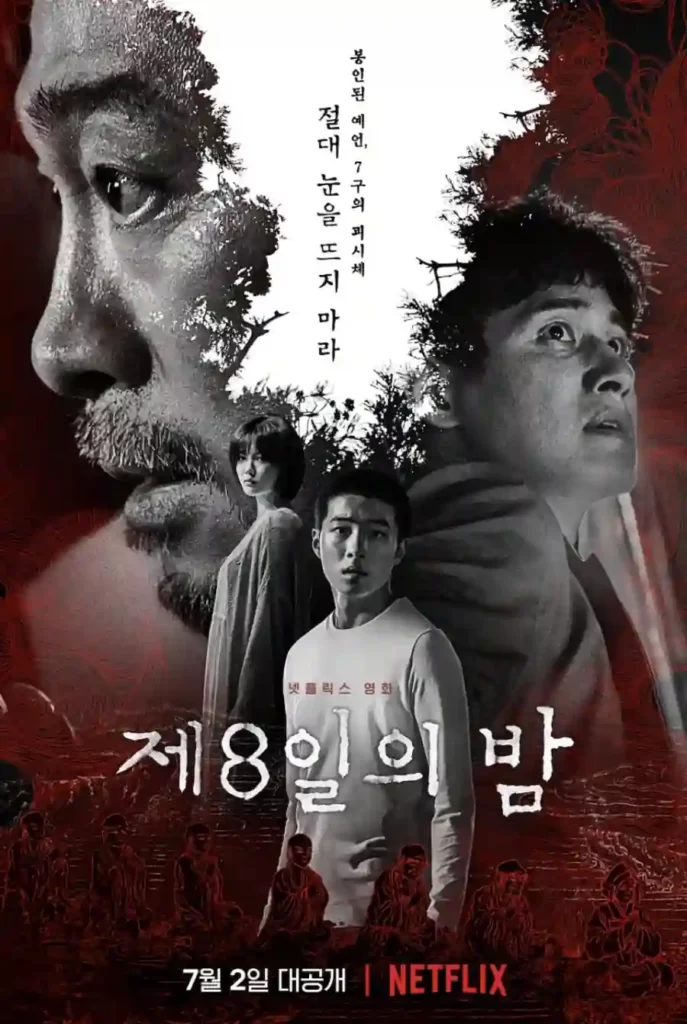 In this chilling Korean thriller movie available to watch on Netflix, an ancient spirit is revived and begins causing mysterious deaths as it seeks a physical form.
With only eight days to prevent the end of the world, a group of strangers must band together to stop it.
Among them is a former exorcist who must face the challenge of stopping the resurrection of two malevolent beings who had been sealed away for 2,500 years.
13. Night In Paradise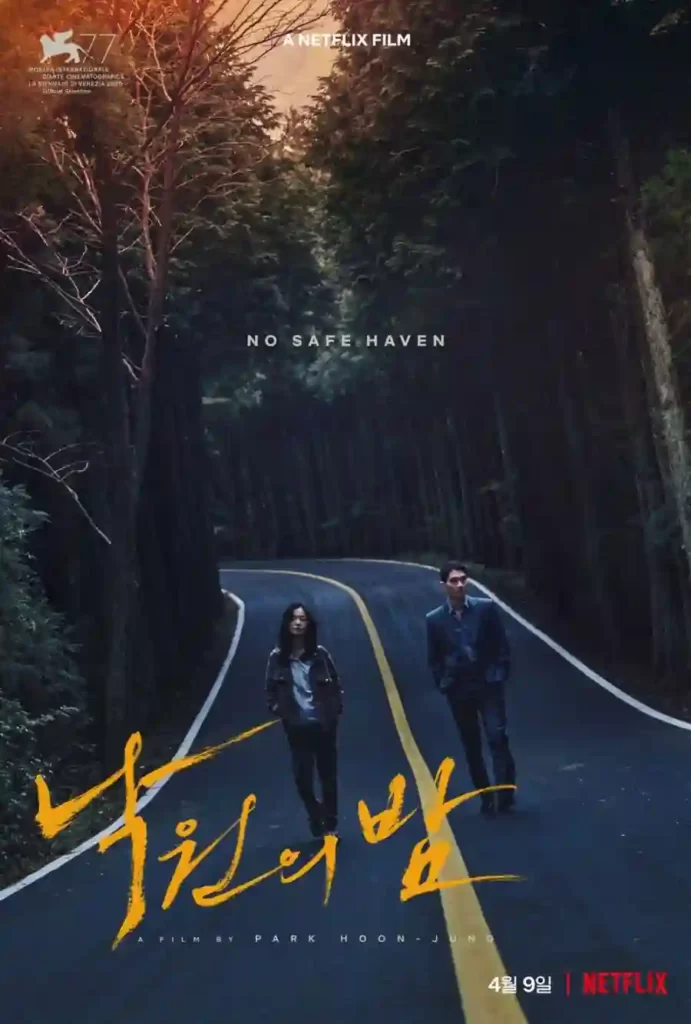 Tae-gu, a mobster, seeks refuge on Jeju Island after losing his sister and niece to revenge killings.
He meets Jae-yeon, a woman battling her own demons, and her arms dealer uncle, Kuto.
Together, they form a bond, and Tae-gu finds himself falling for Jae-yeon despite her condition.
However, his past catches up with him when his enemies discover his location, and he must fight for his life and the safety of those he cares about.
14. #Alive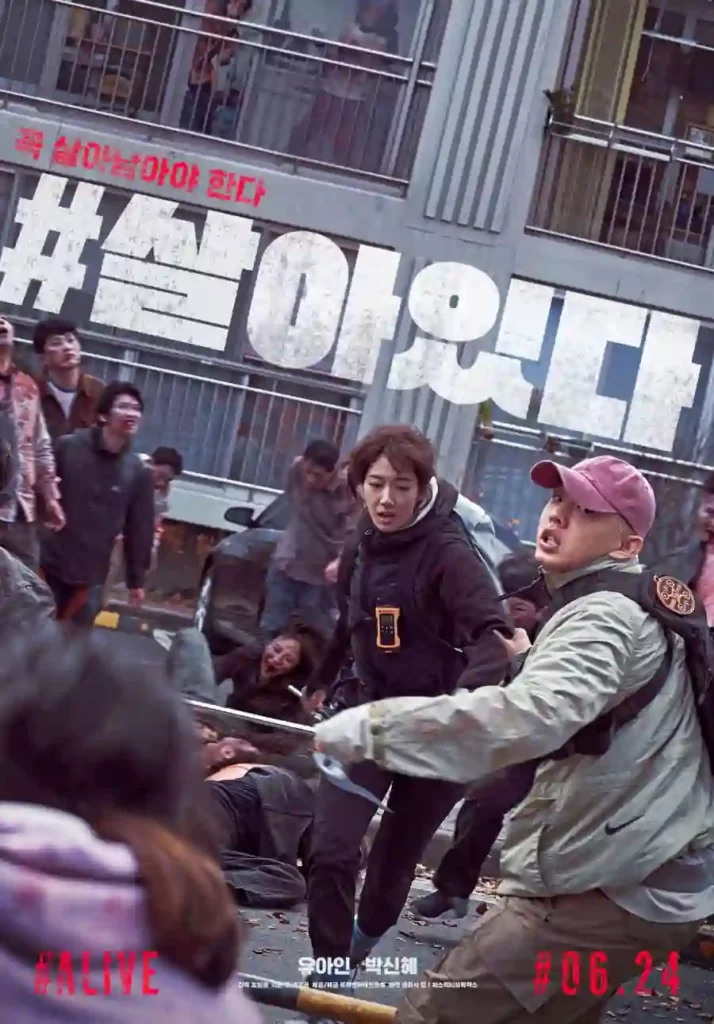 In an unexpected turn of events, Jun Woo wakes up to a city in chaos as a mysterious virus ravages Seoul.
The outbreak quickly spirals out of control, leaving survivors stranded in their apartments, cut off from the world with no means of communication.
With no cellular data, Wi-Fi, or phone calls, Jun Woo and Yu Bin find themselves fighting for survival in an isolated apartment complex, surrounded by the infected.
Together, they must navigate this harrowing situation, relying on their wits and courage to stay alive amidst the chaos and uncertainty.
15. High Society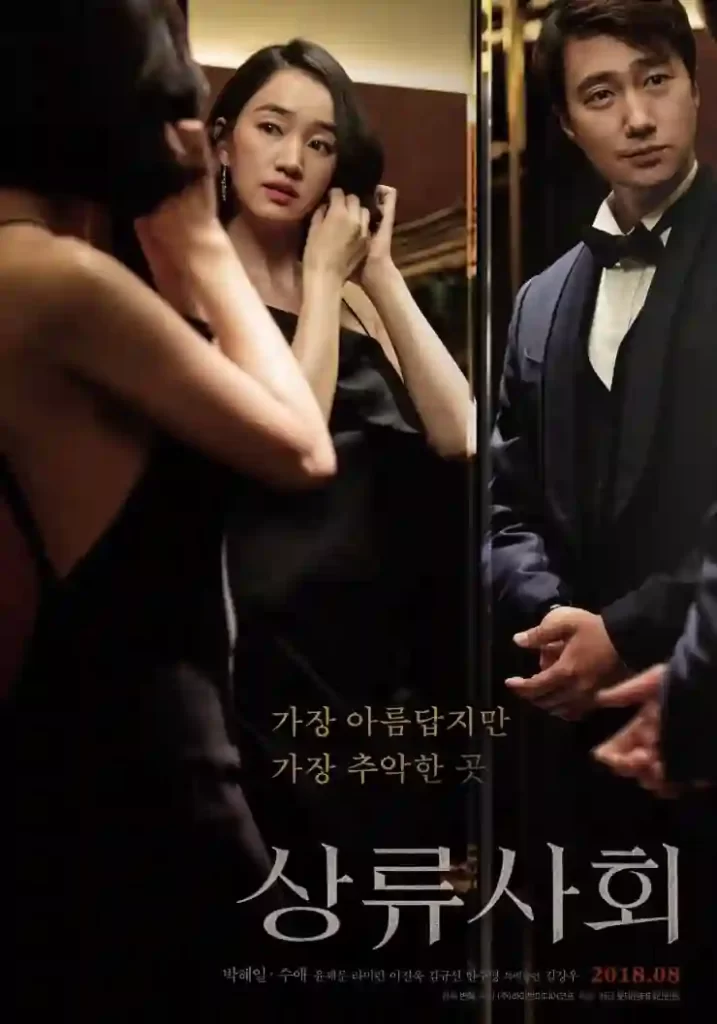 The lives of three individuals intertwined by their desires and love are explored in this drama portraying high society.
Tae Joon, a university professor running for the National Assembly, and his wife Soo Yeon, a gallery assistant curator, are at the top of the social ladder.
Ji Ho, an artist, becomes involved in their lives and a complex love triangle forms, revealing the secrets and conflicts of those who live in the upper echelons of society.
16. Unlocked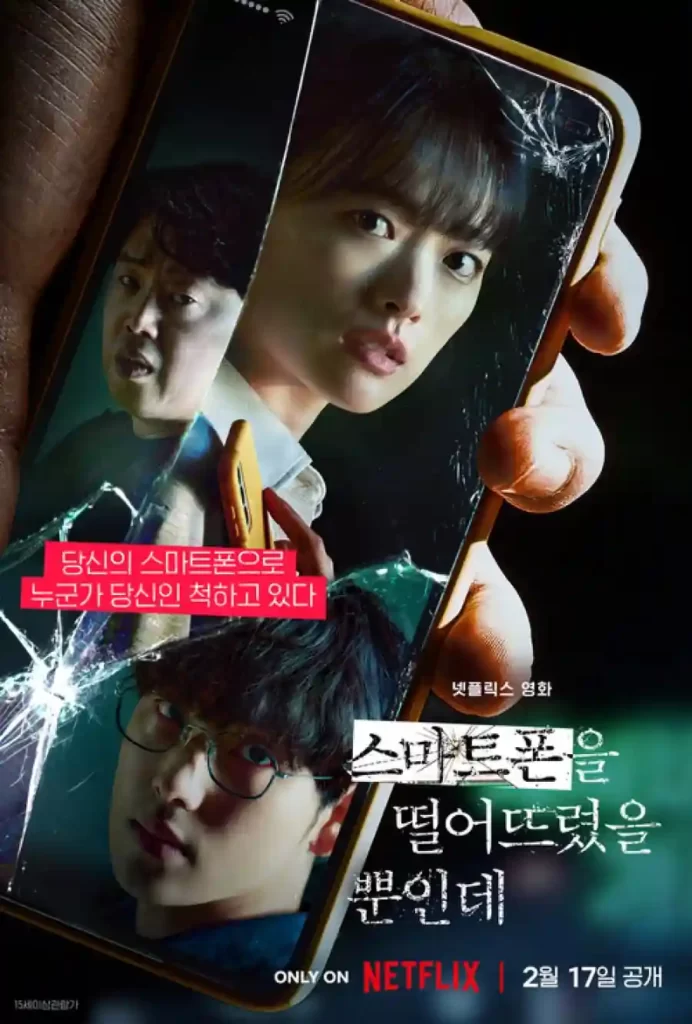 Lee Na-Mi, a hardworking marketer at a start-up, leads an ordinary life until she loses her phone and encounters Oh Jun-Yeong, who installs spyware on her device.
Unbeknownst to Na-Mi, Jun-Yeong monitors her every move, causing havoc in her personal and professional life.
As Detective Woo Ji-Man investigates a murder case, he discovers clues pointing to Jun-Yeong's involvement.
In a shocking twist, Na-Mi and her father find themselves in a fight for survival while Detective Woo Ji-Man uncovers the truth. Brace yourself for an intense and suspenseful journey as secrets unravel and lives hang in the balance.
17. The Call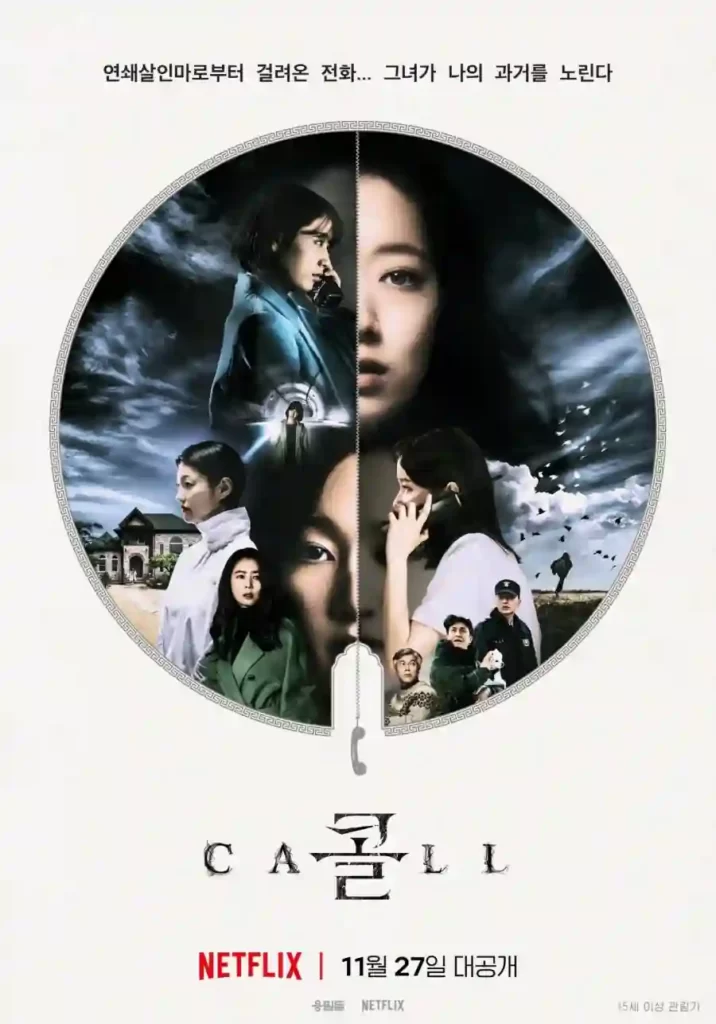 Returning home after a lengthy absence, Seo Yeon stumbles upon an old phone and strikes up a conversation with a stranger named Yeong Sook.
Surprisingly, they discover that they live in the same house, but their ages are two decades apart.
Forming an unlikely friendship, Seo Yeon and Yeong Sook embark on a transformative journey together.
As they navigate their shared time and experiences, a pivotal moment arises, presenting them with a seemingly insignificant choice that holds the power to reshape their lives forever.
18. Forgotten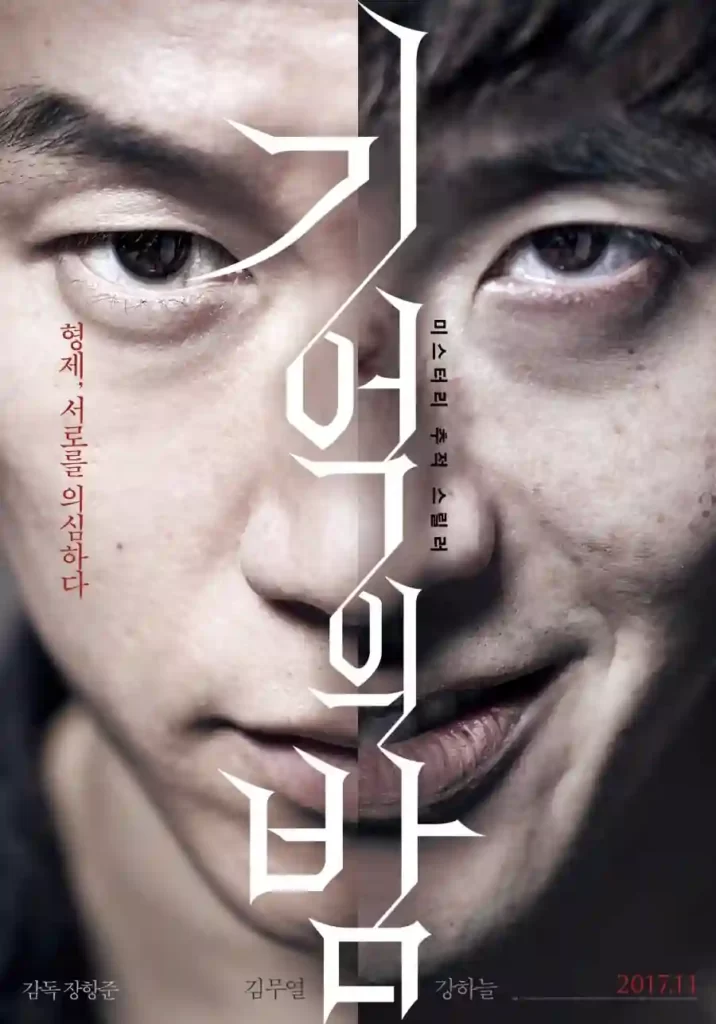 Upon settling into their new home, a shocking event unfolds before the eyes of Jin Seok, as his older brother, Yoo Seok, is snatched away.
However, after 19 agonizing days, Yoo Seok miraculously returns but exhibits a puzzling change in behavior.
Fueled by suspicion, Jin Seok embarks on a quest to uncover the enigmatic truth behind his brother's abduction and the mysteries that unfolded during those haunting 19 days.
19. Carter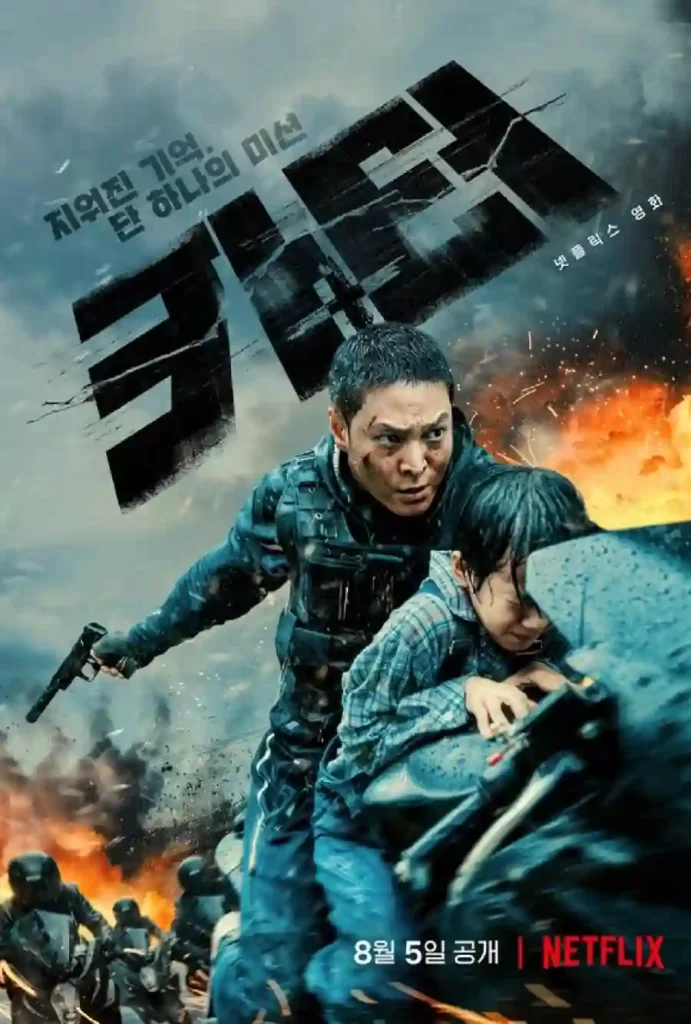 Amidst a devastating pandemic and a post-apocalyptic world plagued by a violent virus, Carter awakens in a blood-soaked motel room, with no memory of his past.
With armed CIA agents on his heels, he must uncover his identity and locate Dr. Jung Byung-ho, while guided by a mysterious voice named Han Jung-hee.
Escaping to North Korea, Carter's mission becomes clear: save his infected daughter, Ha-na, and secure a vital vaccine.
Betrayals, fights, and unexpected revelations follow as Carter battles to reunite his family and confront the ruthless General Kim Jong-hyeok.
With a daring escape and a perilous train journey, their hope for survival hangs in the balance.
20. Svaha: The Sixth Finger
A detective unravels the secrets of Deer Mount, a new religion that is connected to missing girls and a world-ending prediction.
He faces the evil Na-han and the mysterious Gwangmok, who are after a girl with a deformed leg and her sister, the sixth finger. 
This is a fantastic horror Korean movie that you absolutely need to check out on Netflix right now.
---
Thanks to Netflix, these incredible movies are more accessible than ever before and I just know you're going to enjoy them!
So why not check then out, and when you come back, you can let me know what you think in the comments below.
Also, don't forget to check out the related posts below if you want some even more amazing recommendations!
Happy watching!