The Forbidden Marriage was the first new saeguk I watched this year, and I'm not kidding when I say it absolutely made me giddy.
If you ask me, I believe I've gotten to a veteran level in my Kdrama journey, so it's hard to be *very* giggly when I'm watching even the most swoony romance because…well, just because.
But, this beautiful historical drama with a talented cast and a love triangle I would give my right arm to be a part of had me watching and smiling and giggling then crying when it finally ended. 
But, before we get into it, here's a low-down of the important details you might want to know:
Episodes: 12
Aired: December 9th, 2022 – January 21st, 2023
Director: Jung Hoon and Park Sang Woo
Screenwriter: Cheon Ji Hye
Genre(s): Historical, Romance, Comedy, and Mystery
Watch: Prime Video | Viki
Who Plays What In The Forbidden Marriage?
Park Ju Hyun portrays Ye So Rang, a con artist who fakes being haunted by the ghost of the queen who died seven years ago. She's brought into the palace to help the King and they soon fall in love. She's originally from an aristocratic family, but an evil step-mother & a lackadaisical father saw her ousted from her home and forced to scavenge to feed.
Kim Young Dae plays Lee Heon, the king of Joseon who has not taken another wife since his beloved queen passed away. He's easily irritated, prone to violent outbursts, but when he falls in love, he gives his all.
Kim Woo Seok acts as Lee Shin Won, a prison guard who meets Ye So Rang when she is arrested for her crimes. He is best friends with the King, and when he falls for So Rang, their love triangle kicks off.
Summary
The Forbidden Marriage follows So Rang (Park Ju Hyun), a swindler and a matchmaker in Joseon, who pretends to be possessed by the late queen's ghost, when, in fact, there had been numerous "ghost" sightings around the palace which had made them believe that there was truly a malevolent spirit watching their every move.
Soon enough, she's spending an indiscriminate amount of time with Lee Heon (LOML #1) and his bodyguard slash best friend (LOML #2), and, you guys, the visuals were insaneeeeeee!
Lee Heon (played by Kim Young Dae) put a ban on marriage so that they would stop pressuring him to find a new queen after the old queen, who he genuinely loved, died.
Since she died, it had been one thing after the other and everyday on her memorial, a court lady would he found dead as well.
Needless to say, it was soon obvious that someone was doing this to mess with him and he really didn't want to stand for it – so he decided to take matters into his own hands.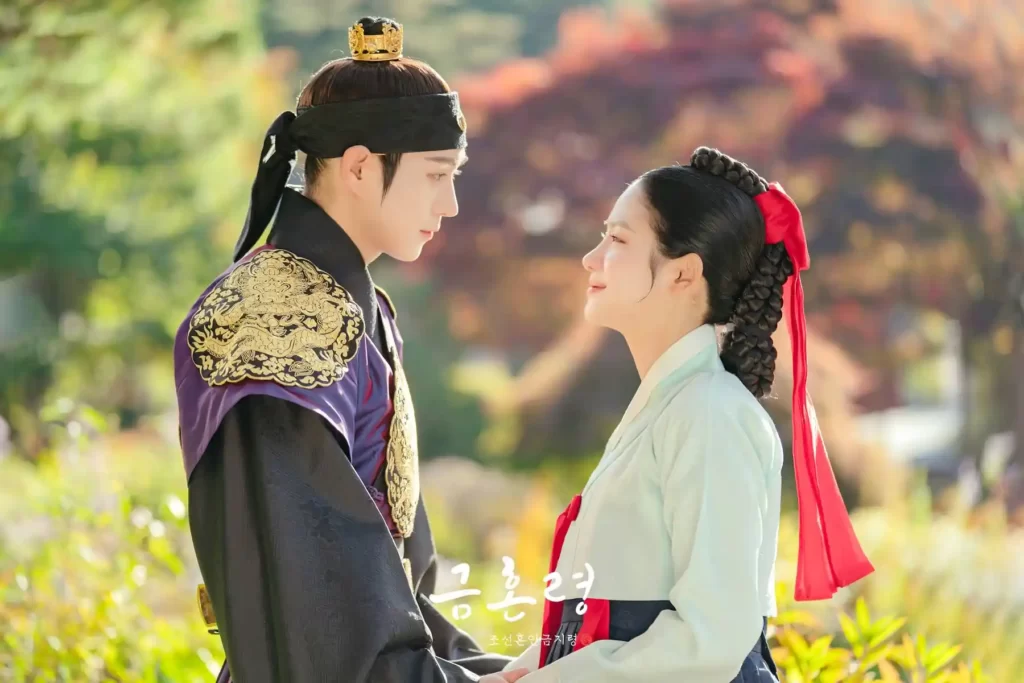 My Review
As I said earlier, the romance in this drama was everything my poor, poor soul needed; the love triangle made it all the more romantic and I was absolutely hooked.
It was only when I was through watching that I started seeing a similarity between this drama and Moon Embracing The Sun – while So Rang in The Forbidden Marriage was brought in to channel the queen's spirit, Wol from Moon Embracing The Sun was brought in to act as a human talisman and absorb the King's bad dreams.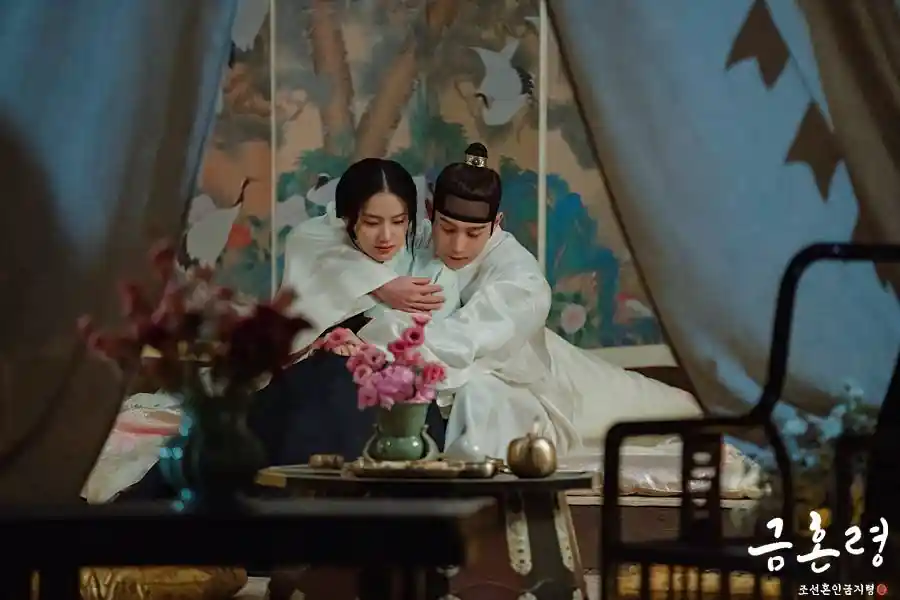 Naturally, the female leads in both dramas spent a whole lot of time with the king during the night, and I loved it!
The Forbidden Marriage is based on a webtoon of the same name written by Chun Ji Hye – she also wrote the screenplay of the drama, so while I haven't read the webtoon, since the same person wrote both, I'm sure there aren't too many differences. 
I liked the thriller plot just as well, and I have to say I really wasn't expecting the ending. 
Usually, political historical Kdramas are focused on the power play between the members of the court and royalty, but this was a welcome break from all of that, and I found everything about it refreshing.
I feel the cast did an amazing job, and the side characters were absolutely stellar in this drama – multiple plotlines, love stories, and all were super interesting.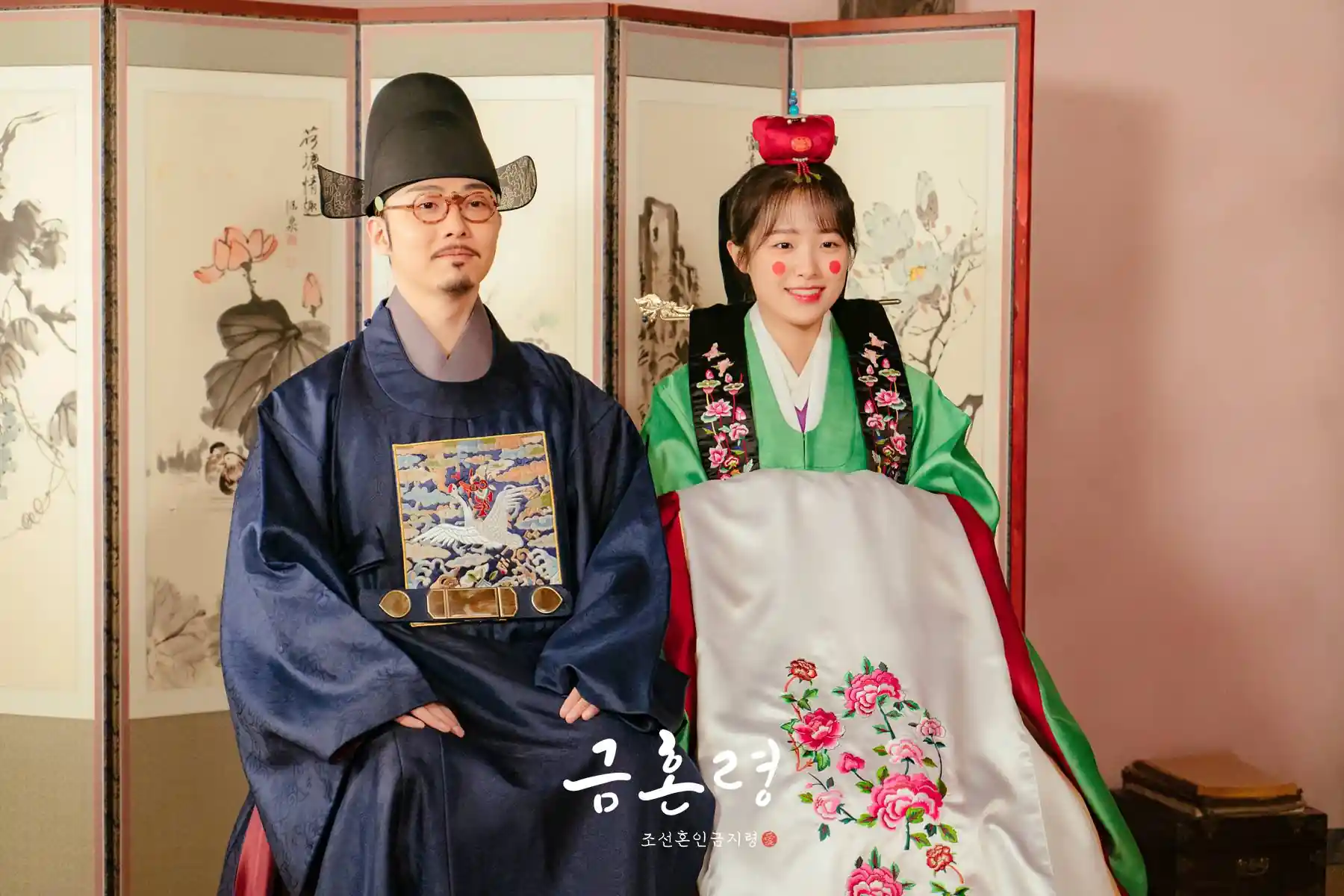 The love triangle trope was heavy in this one with the second female lead also having two contenders for her love.
I'm not complaining, though 🙂
I like that The Forbidden Marriage has a happy ending, because I would have been gutted if any of my faves had to leave in agony while the world continued spinning.
You guys, the chemistry between the leads was nothing short of breathtaking – it was hands down scorching, and you best know they kissed a wholeeee lot, with some very risqué skinship and the intimate jokes.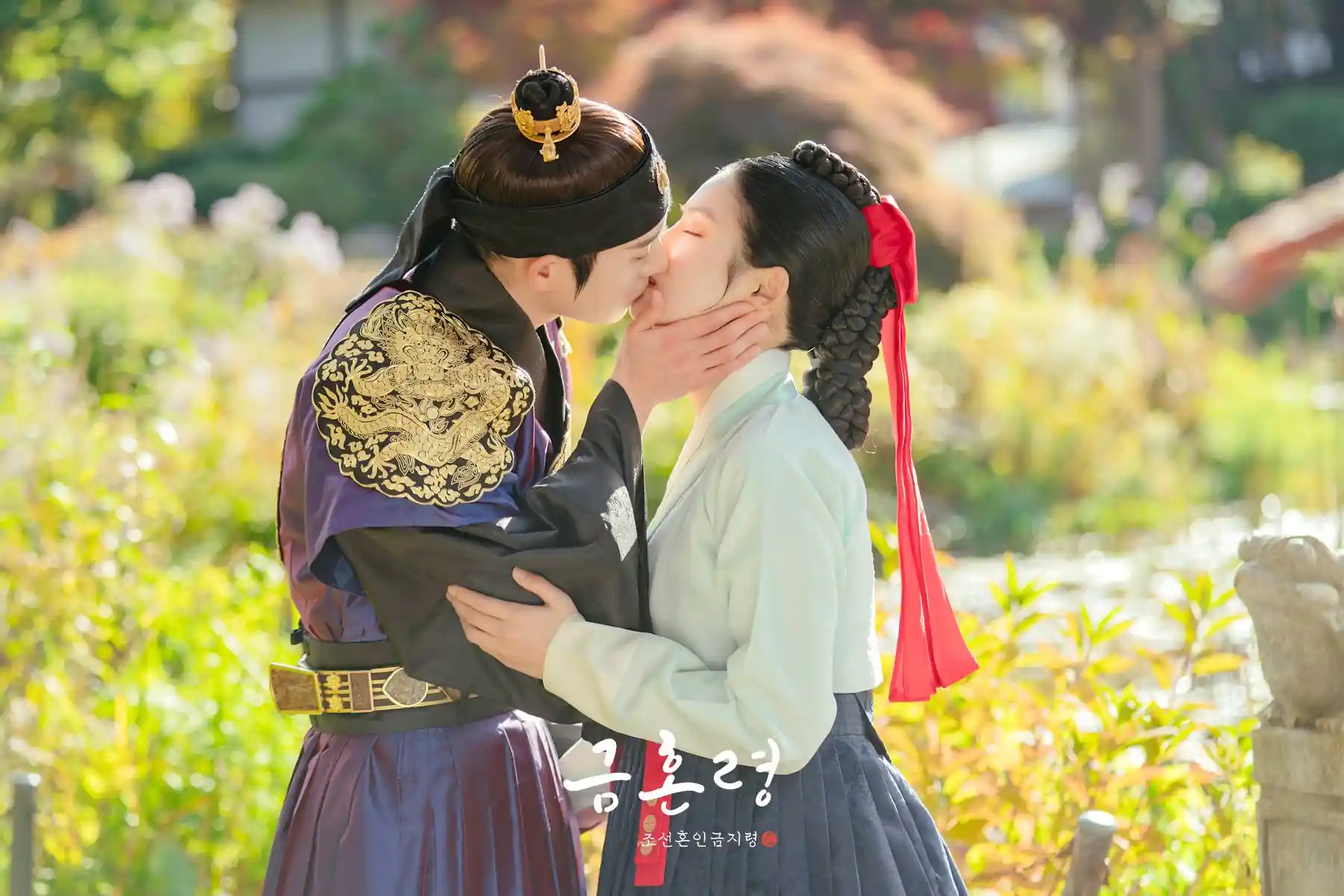 Without spoiling much, just give this drama a try. I can assure you that you're going to really enjoy it.
At the point I'm writing this review of The Forbidden Marriage, Kim Young Dae's new drama about reincarnation and transmigration, Moon In The Day, is set to be released in less than 30 days, and I'm literally seated because I know it's going to be amazing.
---
Have you watched The Forbidden Marriage? What did you think?
This romantic historical Kdrama will keep you glued to your seat, so before you start the first episode, get ready for an epic bingefest.
The Forbidden Marriage is available to watch on Viki, Kocowa, and Amazon Prime Video right now.
I hope you give this drama a chance, and this review is me hoping against hope that there's a second season; even though it hasnt been renewed as at when this article is being written.
Happy watching!